Mastering the "Three Sides of Leadership in Action"
by Wayne Ottum
"It is an immutable law in business that words are words, explanations are explanations, promises are promises,
but only performance is reality."
Harold S. Green
Last month's featured article talked about the Three Sides of Leadership.  In summary, as a leader, it is your responsibility to clearly define a situation or effort you are leading and create a clear vision of success for your team/company.  When the situation is defined, it is easier to align the unique gifts you and your followers bring to the table to the actions required.  Doing so provides the greatest likelihood of naturally motivating others to act to achieve the success you have defined.  Once these three "sides" of leadership are aligned (the leader, the followers, and the situation), it's time to take intentional action to tackle the situation at hand while managing individual and team performance, providing feedback, and making midcourse corrections when needed.  That is, it is time for Leadership in Action!
Humans need clear, effective and concise information in order to perform effectively.  We know this intuitively when we interact with children.  As parents, we set boundaries, discuss expectations, and reward good behavior (or discipline poor behavior).  With these actions, we guide our children to understand what is right and what is not.
But as leaders of adults, we often forget that those who follow us also need – and desire – this kind of clear direction and guidance.  Everyone needs to know their boundaries.  It's like creating a "swim lane" for your staff, where they have the autonomy to do what is needed within their lane to drive toward success, and alerts everyone when they stray too far from the desired course.  When this information is not provided, as humans, we will simply fill in the gaps on our own so we can accomplish what we think needs to be done.  Trouble is…
When people do not have the information they need to perform,
they make it up; however, they generally make it up to benefit THEMSELVES.
This is just human nature.  When performance expectations are not clear, everyone, even the most well-intended staff member, makes up information that likely benefits them in some way, but does not necessarily align with the goals and objectives of the situation or the company.  In short… it creates misdirection, disconnect and chaos (everyone swimming in the pool willy-nilly, in different directions), and not the positive direction, teamwork and order desired with clear performance boundaries.
Thus, we can now see that, as leaders, we need to effectively manage performance by setting clear expectations for action.  These clear expectations can be expressed as being the Three Sides of Leadership in Action, as shown by the following diagram and defined below: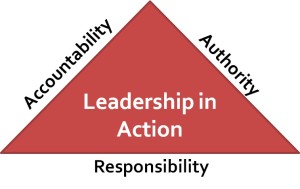 Responsibility: As a leader, our first task is to clearly outline and define WHAT our followers need to accomplish.  It is a list of tasks they will perform.  The key for a leader is to make this list clear and understood by each follower, and provide the context for that task as it relates to success in the given situation.  Responsibilities are always defined with an action verb such as build, design, manage, conduct, sell, etc.
Accountability: Once the tasks to be completed are determined, we now need to set how to MEASURE the standards of performance for these tasks.  It is defining the quality, quantity or timing of the output of each task in measurable terms.  The key for a leader is to define for the follower who they are accountable to (i.e., who is the "customer" of their output), the number they need to produce, the level of quality expected in their work, the standards to which they are being held, and facilitate a true understanding of when tasks are to be, and must be, completed.
Authority: All of us want to make our own decisions, so clearly defining exactly what your followers may independently DECIDE in their role and when they need to consult or obtain authority from others is critical for success.  The key for the leader is to give as much authority as possible to the follower, within their own ability and experience, to allow for maximum personal investment of the follower in the given task while improving the likelihood of achieving quality outcomes and desired results.
By clearly defining responsibility, accountability and authority, followers now know – and understand – what is expected of them, how to measure their own success, and what autonomy and decision-making ability they have (and don't).  This understanding creates their "swim lane" for success.  They know what to do, where their boundaries are and the finishing time to beat to achieve the desired results for themselves and the organization.  The result is your followers now have the power and confidence to achieve success in any situation; and you, the leader, have the tools to effectively manage their performance – every time!
________________________________________________________
If you would like more information about our Lead from Strength™ methodology, send us an email at info@ottumenterprises.com.  You can also discover and learn to use your unique gifts by reading our book, Live from Strength – Discover your unique gifts and the incredible power already within you!  Click here to purchase your copy today.  For more information about what it means to Lead, Live & Love from Strength™, visit us at ottum2.wpengine.com.
About the Author
Wayne Ottum is the President and founder of Ottum Enterprises, LLC, a consulting firm committed to guiding business owners, executives and individuals to ever greater levels of success through discovering and fully utilizing their unique gifts.  An expert in clarity and widely known as the "Coach's Coach," Wayne's trademarked coaching processes guide you to discover the personal and authentic clarity that empowers you to take confident action, each and every day, to achieve what you deeply desire.  Wayne is also an exciting motivational speaker and provides many "ah-ha" moments for every audience.  He is the author of Live from Strength, creator of the Lead from Strength™ methodology, and director of the Business Growth Challenge™ consulting process.  Built on over 30 years of experience, Wayne guides you to Lead, Live & Love from Strength™.  Follow him on Twitter at @WayneOttum or @OttumEnterprise and find him on LinkedIn at www.linkedin.com/pub/wayne-ottum/0/31/958/.
/wp-content/uploads/sites/3/2019/02/LeFS-Horz-100X330-100.jpg
0
0
Wayne
/wp-content/uploads/sites/3/2019/02/LeFS-Horz-100X330-100.jpg
Wayne
2019-03-02 11:08:15
2019-05-07 00:08:19
Mastering the "Three Sides of Leadership in Action"