Lead from Strength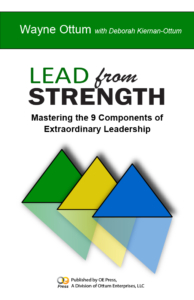 "Look Inside" at Amazon.com or Buy Now!
Imagine your organization filled with extraordinary leaders.  Leaders who are authentic individuals, who intentionally and routinely utilize the concepts of extraordinary leadership to create outstanding results for themselves and your organization.  Expand this vision to a world full of extraordinary leaders.  Leaders who in all walks of life and in all facets of society know how to get things done by empowering others in the most naturally compelling way possible.  Leaders and followers who know and understand their unique gifts and the power, confidence, and authenticity that such understanding provides.  Imagine how companies would thrive, how community members would co-exist and work together, how families would bond and grow.  It is a vision of a world where individuals don't just live, they Live from Strength and leaders don't just lead, they Lead from Strength!
This vision starts with you!  It starts right here when you accept the challenge to be an extraordinary leader!  In this book you will learn a practical definition of leadership and the 9 components of leadership that, when mastered, take you from an ordinary leader, to an extraordinary leader.
Ready to be extraordinary?  Buy Now or "Look Inside" at Amazon.com
Live from Strength
"Look Inside" at Amazon.com or Buy Now!
Right now, ask yourself these important questions:
Do you know your unique gifts (strengths)?
Do you understand how to use them to take your life to the next level?
Are you using your gifts with purpose and intent to drive your life forward in a clear direction?
Are you making confident daily decisions in alignment with your authentic self?
Are you genuinely happy and fulfilled?
If not, you are not alone.  Most live their entire life never discovering or fully utilizing the incredible power already within them that comes from knowing and using their unique gifts.  Many don't even believe they have powerful strengths, talents and abilities that when understood and used to their fullest, will naturally propel them through life to manifest and accelerate the success they dream about and allow them to answer that burning question, "Why am I here?"  It's not that they lack desire to live a more genuine, happy and fulfilled life powered by their unique gifts, it is simply that they have not been shown how.  Until now!
Through the individualized step-by-step process outlined in this book, you will:
Discover the exhilarating power of the unique gifts already within you.
Define your own personal, compelling and authentic direction, purpose and values.
Build a practical, focused and meaningful action plan for your life.
Create the tools for continued improvement as you change and grow.
Experience a more powerful, confident, authentic and fulfilling way to live.
Take your life to the next level, no matter your age or where you are in your journey.
Now, imagine living a deeper, more meaningful life because you know who you are, why you are here, where you are going, and what to do.  A life filled with increased confidence, greater success, easy decisions and peace of mind, living a truly happy and authentic life that resonates deeply within you.  This is the incredible power, confidence and personal fulfillment that can be yours, right now, when you – Live from Strength!
"Look Inside" at Amazon.com or Buy Now!
Click here to find out more about our Live from Strength™ services.
Create Intimacy… in as little as 8 seconds a day!
"Look Inside" at Amazon.com or Buy Now!
What do you crave in your relationship? More sex, appreciation, understanding, connection, romance, passion? All of the above? Whatever IT is, it begins with INTIMACY! Intimacy is the foundation of a trusting, loving, romantic and passionate relationship and you can have more of it in as little as 8 seconds a day!
It's true! Regardless of your age, gender, or sexual orientation, or how many years you have been together it is possible to create more intimacy in your relationship right now. It starts by answering two little questions… What does intimacy mean to you? What does intimacy mean to your partner? It doesn't matter how anyone else defines it, YOU get to choose your own definition.
The simple process introduced in this book respects your individuality and your unique needs as a couple. The only right answers are the answers that are right for you, your partner, and your relationship. By discovering and sharing your personal definition of intimacy, you unleash the power to give AND get more of what you need in your relationship – more love and respect, clear communication, strong connection, and deep understanding – while building a solid foundation that will stand the test of time.
Imagine the relationship of your dreams, one with renewed energy, the love you desire, the sex you crave, the fun and laughter you long to share… It begins with intimacy and it starts right now! Everyone has 8 seconds to give, especially when the reward is so great; a lifetime of romance and passion with the one you love! Create Intimacy… in as little as 8 seconds a day will show you how to ignite and enhance the intimacy in your relationship, one easy, fun and confident step at a time!
"Look Inside" at Amazon.com or Buy Now!
Click here to find out more about our Love from Strength™ services.